I woke up
Like this!
I'm loving my permanent eyeliner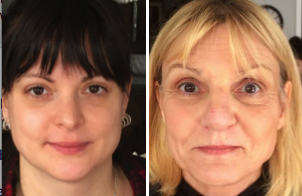 On Friday April 7th I hopped into my car, drove from Toronto to Bomanville to pick up my mother and we then carried on to the city of Peterborough. We were headed to the Kawartha Cosmetic Clinic to meet with Angela Hobbs (Witt), Permanent Make-up Artist, to get mother-daughter tattoos — in the form of permanent eyeliner!
I had no idea what to expect when we got there – I trusted my mom with all the research. When we got to the clinic I was put at ease right away – the waiting room was relaxing, welcoming and most importantly for cosmetic procedures – CLEAN. It has a professional high end look with the small-town comforting and welcoming attitude.
Any nervousness I may have still had lingering vanished when Angela came and introduced herself. Angela is super friendly, knowledgeable and patient. She talked to us about what we will be experiencing and asked us what our expectations are. She has over 10 years of experience and is constantly educating herself so that she is at the cutting edge of permanent make-up. Looking at her portfolio you can also tell that she's crazy talented! Mom and I were in excellent hands.

I had heard from a colleague who had permanent eyeliner done in Toronto that it hurts like a SOB! Having body ink already I was trying to pump myself up for what pain to expect. Turns out it was a total waste of time because Angela applies an anesthetic gel so that the procedure is PAIN-FREE. You don't need to be a hero to get permanent make-up! What is does feel like is little cat licks across your eyelids.
Angela can create many looks, from cat eye, to winged or just a classic look, there are many different colour choices of ink. She provides you the ability to customize your liner to fit your style. She will take the time to give you the look that you desire – as well as provide expert advice as to what may suit you best.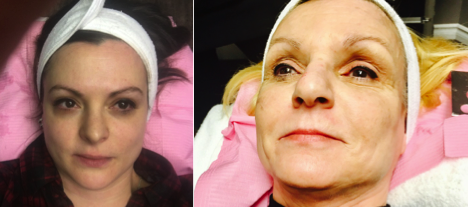 The aftercare isn't bad. My eyes were a bit swollen and tender for a few days (like I've had a really good cry matched with scratches on my lash line). Taking care of my eyes while they heal is very easy – just need warm water, gel cold packs, Q-Tips and Polysporin. I can't say enough good things about waking up and not having to fuss with my eyeliner. I also can't say enough good things about Angela and the Kawartha Cosmetic Clinic. If you are interested in permanent make up definitely check Angela out. She's worth the drive!
Vloggers
Love
Kawartha Cosmetic Clinic
Who is Michelle Ferreri? Michelle is most often known by her cheeky nickname MF, and is described as authentic, wild, fun, innovative, and creative.
She's a Canadian vlogger and content creator who left TV for the web and never looked back. Launched in 2014, michelleferreri.com is all about being a good person and having fun doing it. MF is parenting, beauty, fashion, philanthropy, and beyond. She's been to Kawartha Cosmetic Clinic a few times, and has taken the time to share her experiences online.