by Jennifer DeCarlo | Feb 19, 2016
ADVANCED SKINCARE BACKED BY SCIENCE
Research and innovation are at the core of the SkinCeuticals mission, and our dedication to science has established the brand as a leader in the advanced skincare arena. The company's founding was the direct result of a revolutionary discovery that set the standard for antioxidant formulation. SkinCeuticals continues to pioneer next-generation products that will optimize the health and beauty of the skin—and change the face of skincare for years to come.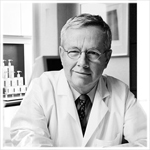 SHELDON R. PINNELL, MD
As SkinCeuticals founding scientist and chief medical advisor, Dr. Sheldon Pinnell established SkinCeuticalsas the skincare industry's antioxidant authority. Dr. Pinnell's groundbreaking, peer-reviewed research and comprehensive dermatologic knowledge resulted in the Duke University Antioxidant patent, which is now the gold standard for topical antioxidant formulations and licensed exclusively to SkinCeuticals.
GROUNDBREAKING RESEARCH
With nearly 40 years of experience researching and developing technologies that help to prevent accelerated skin aging and skin cancer, Dr. Pinnell's work established SkinCeuticals as a leader in scientifically validated skincare. SkinCeuticals is committed to cutting-edge skin science, and this is reinforced by strategic relationships within the scientific community.
We have established a network of leading scientists from the fields of cellular and molecular biology, chemistry, and biophysics to further understand and research skin aging, skin types, and skin conditions. With this comprehensive knowledge of the skin and skin health, SkinCeuticals continues to raise the skincare bar and maintain its leadership position in the skincare industry.